A

Complete Solution for Your Used Toner Cartridges

Green Agenda recognises the critical need for a sustainable and circular economy which promotes a zero waste to landfill policy. As a business, we also understand that getting rid of your used toner cartridges and other WEEE waste can provide all kinds of headaches including concerns over cost, simplicity and compliance (including your legal obligations).

Green Agenda aims to relieve the burden placed on businesses and organisations like yours to recycle waste reprographic consumables including empty toner cartridges, multi-function printers, copiers, laptops and mobile phones by making the process quick and simple, as cost effective as possible and most importantly ensuring you are protected. Our clients include some of the UK's largest schools, hospitals, universities, councils and much more. Take a look at what some of our clients have said about our service.
Frontpage Video Desktop & Tablet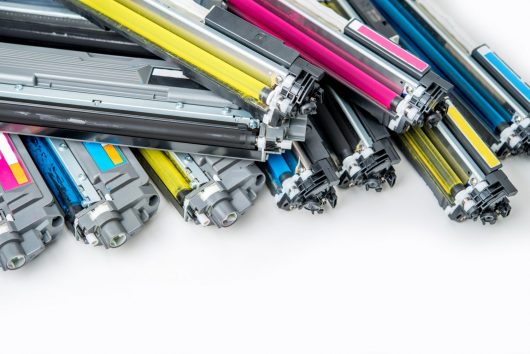 A

legal requirement, the WEEE Directive and compliance.

Getting rid of your waste can be costly, however, it is completely necessary as you have a legal duty of care to dispose of your waste electrical and electronic equipment in an appropriate manner in accordance with the WEEE Directive, whereby as of January 2016 toner cartridges were classified as WEEE Waste. As a business who uses toner cartridges and printing consumables, therefore producing waste, it is your responsibility to ensure that this waste is collected, treated and recycled correctly – it cannot just be thrown away.

You can visit the government website to find out more about your responsibilities.

Non-compliance is a serious issue and can actually become more costly than recycling your waste in the first place. There have been multiple cases of non-compliant organisations receiving fines of up to £30,000. Fines for non-compliance are actually unlimited, and can also be inclusive of public prosecution, not only impacting your bank account, but your reputation too.
Anti-Bacterial

& Virucidal Sanitiser Disinfectant Cleaner

Delphis Eco Anti-Bacterial Sanitiser is tested to EN1276, EN13697 and EN 14476 guaranteeing that it is highly effective against a multitude of Bacteria, Algae, Moulds and Viruses, including Corona Virus.

Clean as you go: Apply Anti-Bacterial Sanitiser directly onto surface, allow minimum 30 seconds contact time and wipe clean. For larger surface areas such as floors, use a mop and bucket.

Delphis Eco has two Royal Warrants, one from HRH Queen Elizabeth II, and HRH the Prince of Wales. A Royal Warrant of Appointment is a mark of recognition that we have supplied goods or services to the relevant royal households for over five years and have an ongoing trading arrangement.