Premier league football clubs are among some of the biggest brands in the world, particularly the larger clubs who take large sponsorship deals and compete in European competitions. This makes them highly marketable and among the country's most globally recognised brands, but it also means everything they do is under the spotlight.
As environmental issues, climate change and sustainability are currently at the top of the worlds news agenda (and will continue to be until change is made) we thought it would be a good idea to do some research into how green premier league football clubs really are.
A report compiled by the BBC at the end of 2019 following research into each of the 20 premier league clubs looked at evidence of schemes in the following eight categories:
clean energy
energy efficiency
sustainable transport
single-use plastic reduction or removal
waste management
water efficiency
plant-based or low-carbon food options
communications or engagement
The image below shows how well each club performed. The BBC provided clubs with 1 point per category if the club had suitable initiatives for each section and half a point if plans were in place but not fully in motion for each category.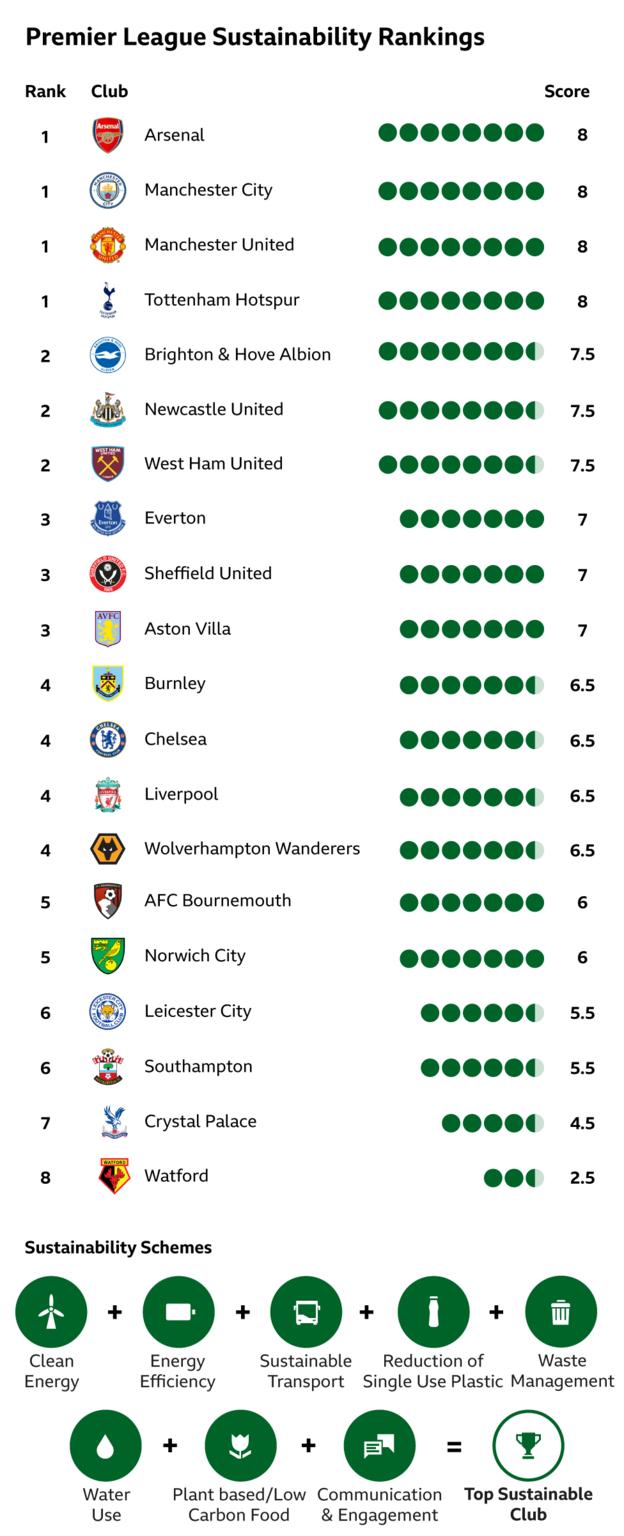 But what are some of the individual initiatives that clubs have?
Manchester City have 'wildlife corridors which are home to various types of moths, butterflies and bats.
West Ham United operate under a zero to landfill status, sending all plastics, cardboard, wood, paper, aluminium, pallets and ink cartridges for recycling.
Tottenham have installed a 'green roof' of flowering sedum plants at its training center to enable the capture and re-harvesting of rain water across the site.
Liverpool have no single-use plastic food packaging, instead using trays made out of compostable palm leaf and maize.
Are these steps the right ones to take?
Professor Mike Berners-Lee of Lancaster University suggests that while it is fantastic to see premier league clubs acting and introducing sustainable initiatives, the work being done is only just scratching the surface and not yet addressing the most important areas, especially when we consider that we're now in a climate emergency.
What do you think football clubs should be doing to tackle the current climate emergency? Let us know your thoughts!