Universities around the world are operated by thousands of employees, under hundreds of different faculties. Each one is more than likely to use a printer at least once a week for academia. On top of that, thousands of students use printing services to print class work and assignments. Students print an average of 25 pages per week, that's 350 per semester, or 700 per year
That's a lot of toner in one place, but what happens to all the used toner cartridges?
Many universities have a toner recycling scheme, including Manchester, Edinburgh, and Leeds, however none of them are advertised very heavily and most of them are only for university machines, not personal machines. Universities should not only encourage the recycling of empty toner cartridges produced from their own machines, but from all their students as well. If not recycled, toner cartridges are transported to landfills which will cause the release of ozone depleting substances, greenhouse gases,
and volatile organic compounds into the environment.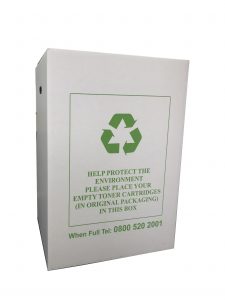 If you were to do some research into how different universities handle their waste toner, you would find a plethora of websites from universities claiming to be sustainable, with instructions on how to handle used toner cartridges at their institution. This is good in principle, however in most cases it is not enough.
A single web page in the depths of their website is insufficient to properly inform students of the impact of their printer use. Universities should encourage students to properly dispose of their own used toner into proper places provided on campus for all toner cartridges. This not only helps the environment, but the university adhere to the most recent waste electrical and electronic equipment (WEEE) recycling laws.
The European Commission have more information on WEEE
GreenAgenda offers producers of waste a solution with the ability to comply lawfully and ethically to the latest legislation which has quite rightly been made to address pollution. As of 2016, toner cartridges, ink cartridges and toner powder fall under the classification of electrical waste and must therefore be disposed of correctly.
GreenAgenda are fully compliant with WEEE regulations and ensure that all used toner cartridges are properly handled and remanufactured to the highest quality. We provide collection boxes that can be displayed around universities with notices to encourage the proper disposal of toner cartridges. Once collected, the toner cartridges will be recycled correctly and treated at our fully certified ISO14001 waste treatment plant.
To do your part in recycling, partner GreenAgenda today.
If you have any questions, please feel free to e-mail me at info@greenagenda.co.uk